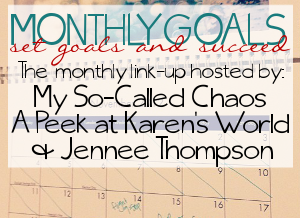 Is it already time for March goals? February went by so fast! After taking a month off of school, I'm not excited to start another class or to go back to juggling so much at a time! Here is what I want to accomplish this month:
1. List items on Etsy shop.
I have two sheet sets almost done!
2. Stay on top of school work so I can enjoy visits from family and friends.
This weekend my brother-in-law and his family are coming up for their last visit to see us in San Diego! We will have a full apartment but are going to make the most of it!
3. Make Jack a vet appointment.
Poor guy is absolutely terrified of the vet, but its that time of year.
4. File taxes.
I'm a finance geek, so I don't mind filing our taxes every year. Oh, and who doesn't love tax credits?
5. Schedule family pictures.
For
my birthday
, my thoughtful husband got me a groupon for a sunset photo session, and I can't wait to use it!
It was wonderful taking a month off of school, and I actually got quite a bit done in
February
.